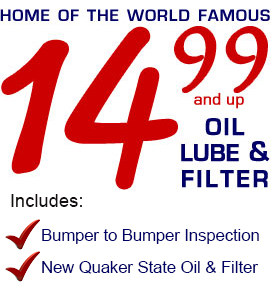 Auto Repair and Service
It's our commitment to provide you with the highest level of service possible. Whatever your vehicle needs, we have the knowledge and experience to do the job right – the first time and every time. Complementing our work, our maintenance services ensure that your problems are fixed before they become expensive breakdowns.
Home of the world famous $14.99 oil, lube and filter
Our Services Include:
Rustproofing – Dripless Oil Spray
Oil Change and Vehicle Maintenance
Computer Diagnostics
Electronic Troubleshooting
Air Conditioning
Shocks/ Struts/ Suspension
Exhaust Repair
Tune Ups
Wiring Repairs
All Fuel system components
Water Pumps / Timing Belts
Motorcycle Safety Inspection
Batteries, Alternators and Starters
Tire and Rim Packages
Brake Repair Service
Engine/Transmission Repair/Towing
Safety Inspections ONLY $35.00
FREE Estimates and all work guaranteed!